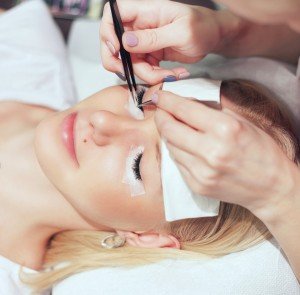 If your brows are diminishing and your lashes vanishing, welcome to the mirror in midlife.
In a recent article for midlife website My Second Spring, Opulash's Carmel Mooney shared some tips and treatments in her toolkit to tackle this overlooked age accelerator.
See the fabulous before and after photos at the end of the feature or visit www.mysecondspring.ie for more.
If you are in your mid or late 40s, you may have noticed you are wielding your eyebrow pencil and mascara wand with ever more energy, but to less effect.
Welcome to one of midlife's peskier beauty issues – vanishing lashes and brows. It starts so gradually you hardly notice, with the brows slowly thinning out, and eyebrow hair getting coarser, then gaps in the lash line open up.  Taken together, these seemingly innocuous, gradual changes do add up to a dramatic impact on your appearance.
When you add in the other grooming challenges of midlife – wrinkles, sagging, thinning skin, you might well feel you've catapulted forward a decade in a matter of months.
I've been observing and treating women in their 40s to 60s for two decades now, and the eyebrow and lash depletion I see starts around mid forties and is a significant age accelerator – in some cases more so than wrinkles. Loss of hair on the lash line means less definition around the eye, making it look more sunken, a feature associated with advanced age. The colour of lash hair also fades, so the eye area looks washed out. Mascara can in fact make things worse, by adding volume and colour to the remaining lashes and drawing attention to the gaps.
Brows are the same – they thin out and fade, and suddenly the top half of the face seems naked, ungroomed, and in turn, lines and wrinkles become more obvious.
So what's happening?
There are a few obvious suspects/culprits. Overplucking in our youth can cause some damage to the follicles responsible for hair regrowth – which leads to a slightly depleted bank of brow hair come mid-life. So ease off on the tweezers action, or if it's too late for you, warn your daughters!
Then there's the general aging process – all hair and skin thins with age. What exacerbates the problem with women is the gradual decline in estrogen levels in the perimenopause years (40 on, for some women) followed by a dramatic drop at menopause, the point at which periods stop forever. Suddenly, estrogen, which plays such a vital role in collagen production and maintaining skin plumpness and healthy, thick hair, drops to around 10 % of its previous levels. The results differ for each woman – but most notice big changes in hair, brows and lashes.
Of course certain conditions like thyroid issues, alopecia, and some chemotherapy treatment regimens can result in hair, eyelash and brow loss that requires medical treatment approaches – but many patients can benefit from cosmetic measures to enhance their brows and eyes/appearance.
Here's our seven step plan to revive your brows and lashes and claim back a few years from your age.
Commitment: realize, as with everything in midlife – diet, exercise, grooming – you will need to up your grooming game. That means time and effort.
You are what you eat: Check your diet to ensure you have sufficient vitamin E and Biotin – also known as Vitamins B7 and H, which are associated with healthy hair growth.
Consider a serum: Some of my clients have reported good results from some of the improved growth serums that have come on the market – from prescription products like Latisse to over the counter options like Revitalash or salon options such as Jan Marini Growth Serum.   Others report no change from using these products, so do your research before making a purchase. You will find a good round up of these products at https://www.futurederm.com/2015/01/08/the-4-best-treatments-for-eyelashes/
Fake it: With make up. Invest in a natural looking brow pencil, with a wax to keep brows looking groomed and in place all day. To camouflage the gaps in the lash line, use soft kohl eyeliner lightly dotted close to the base of the lashes or inside the upper lash line – this will create definition around the eye line that can distract from gaps in the lashes. Try it, a clever little trick taught to me by Paula Murphy Make up Artist, whose blog you can read here. http://www.mysecondspring.ie/blog/wake-up-your-make-up.
Turn to a specialist: The advent of lash extension technology and brow tinting and shaping techniques in the last decade has transformed the toolkit of options – and the appearances of mid life women.
Eye-openers – the solutions
The entry-level treatment for lash and brow loss is the power combo; a combination of Brow Perfect and a classic Eyelash tint. It involves traditional techniques of tinting and shaping to restore shape and definition, with a very bespoke result that is both natural and dramatic and saves grooming time in the morning.
The tinting of lashes then deepens the natural lash colour to give intensity and the illusion of volume in a way that mascara alone cannot. A good lash tint will replicate the effect of eyeliner – many women can go without eye make up after this combo treatment.
Add Volume: If eyelashes are very fine, the next level of treatments makes a dramatic difference. With classic or Russian XD eyelash extension treatments, different lengths and thickness of the finest silk and velvety mink lashes are applied to each individual eyelash creating soft, full or intense volume and length, depending on what is preferred. For 40 plus women, these luxury, realistic looking lashes are the convincing alternative to the Kim Kardashian style of eyelash extensions that are a feature of every 20 something's make up bag.
It takes a little time investment — up to two hours in a therapist's chair, while you switch off, and drift off to sleep to the sounds of some soothing wave music, or an audiobook. But the payoff is that your lashes will look great for weeks, providing they are maintained (extensions fall out with the natural hair life cycle).
This non invasive triad of treatments — brow shape and tint, lash tint and the addition of classic or mink eyelash extensions – really can turn back time.
My Second Spring Editor/Publisher Aisling Grimley tried Opulash's classic combination of Brow Perfect, Eyelash Lift and Lash Extensions last month for her website www.mysecondspring.com. The after picture (top) says it all, no makeup required  – what a difference a few hours of treatment can make!
Book a restorative Brow and Lash treatment at Opulash's Dublin salon. (+353) 085 279 2101.